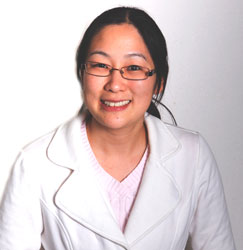 Dr. Ung knew she wanted to study medicine from a young age and earned her Bachelor's in Biomedical Sciences from UC Riverside.   She earned her Medical degree from UCLA and excelled at her Residency in OB-GYN at Kern Medical in Bakersfield.
She spent her first two years in practice with a successful OB-GYN medical group in San Bernardino, but as a Clovis native, Dr. Ung always knew she wanted to return home to the Fresno area.
Joining the practice at our Clovis location, Dr. Ung brings knowledge and a desire to work with her patients to have a positive, successful birth experience and exceptional healthcare.  Dr. Ung speaks medical Spanish, fluent Cantonese and conversational Mandarin.
Obstetrics
Gynecology
Infertility
Minimally Invasive Surgeries
Advanced Surgical Procedures

Priscilla Rodriguez, P.A
Physician Assistant
Priscilla joined the Omni Women's Health team in 2013, returning to the work she loves – women's health! After earning her Bachelor's degree in Health Science, Priscilla began working in health education, counseling pregnant and postpartum women. Seeing a need to continue her education, Priscilla went back to school and graduated from San Joaquin Valley College with a Certified Physician's Assistant certificate in 2008 and a Master's of Physician Assistant Studies from the University of Nebraska in 2011.
Priscilla worked in family medicine in Madera at the Camarena Health Center for more than 5 years before deciding to jump back into women's health! The staff and patients of Dr. Ung's practice are glad she did!

Sheryl Lindquist
Office Manager
1530 Shaw Ave
Clovis CA 93611
(559) 323-9133
Fax: (559) 323-8070